Welcome to Apartments in Trogir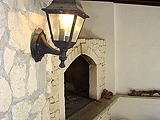 You will find Apartments in Trogir, by Smuketa family on Ciovo Island just 50 meters from the sea and about 500 meters from Trogir historic center, Croatia . Historic center of Trogir in Croatia has been inscribed in the UNESCO World Heritage List in 1979.
Apartments in Trogir by Smuketa family offer the best for a really great all round holiday ! The beauty is all your needs are within walking distance yet you are in the natural cultural centre of things (not stuck on a Trogir hotels holiday complex) with peaceful walks and the beaches of Ciovo island also within walking distance. All our apartments in Trogir, Croatia are fully furnished .
If you travel to Trogir, Croatia by air we offer a possibility of quest transfer from Split airport to the accommodation.

Apartments in Trogir, Croatia, by Smuketa family offer accommodation in typical Mediterranean house, in Trogir center, near the sea, with capacity of 12 persons in 3 apartments.

Contact: Family Smuketa
tel: +385 91 592 1950
e-mail: antesmuketa@gmail.com
Address: Gospe kraj mora 28, HR 21220 Trogir, Croatia